Thermal and Mechanical Design
NordHeat provides thermal & mechanical design as a service.
We also manage complete projects and services:
Process and thermal design

Mechanical design

Installation and repairs

Thermal design with Aspentech EDR, the industry leading software
– 40 years of experience with thermal calculations
– Rapid response to your requests
– Scandinavian manufacturers
– Basis for the design is TEMA (Standards of Tubular Exchanger Manufacturers Association)
To assist you with thermal design you need to provide us the following: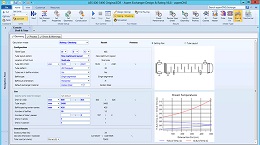 – Medium (both shell and tube side): chemical composition,
– Temperature, in and out, both for design and operation
– Flow volume
– Pressure: for design & operation, necessary for gases and vapour
– Allowable pressure drop
Pressure vessel norms we work with
 Europe: PED
 American Standards: ASME
Designs are approved by third party when necessary.
We are constantly updated with the latest research and share knowledge with our manufacturers.